NEW3S intègre le
LIVING LAB
de la
FABRIQUE du FUTUR
aux côtés de DASSAULT SYSTEMES, CAP GEMINI, INSTITUT FRANCAIS DU DESIGN, ART et METIERS...
Voici la liste des Membres :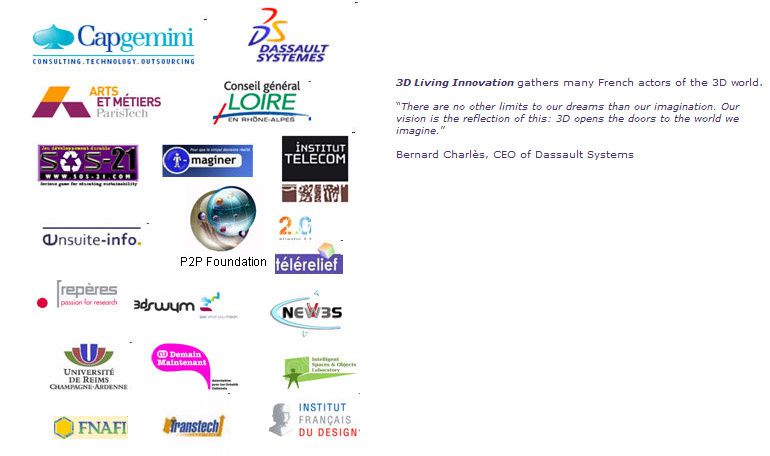 What is a Living Lab ?

A Living Lab is both a methodology for User Driven Innovation (UDI) and the organizations that primarily use it.

A Living Lab is about experimentation and co-creation with real users in Real Life environments, where users together with researchers, firms and public institutions look together for new solutions, new products, new services or new business models.

But also Living Labs are about societal involvement, about promoting innovation in a societal basis, involving academia, SMEs, public institutions and large companies in an Open Innovation process that because happens in real environments has an immediate impact. This is how Living Labs aim to contribute to a new Innovation System where users and citizens become active actors and not only passive receivers.
NEW3S rejoint le 3D-LIVING-INNOVATION de la FABRIQUE du FUTUR.
D'une pierre deux coups : NEW3S intègre le 3D-LIVING-INNOVATION et la FABRIQUE du FUTUR.
Qui sont les Membres du 3D LIVING INNOVATION ?
http://www.lafabriquedufutur.org/3DLiving-Innovation.html
3D-LIVING-INNOVATION est un LIVING LAB.
http://www.openlivinglabs.eu/
OPEN LIVING LABS. C'est quoi ?
The European Network of Living Labs is a grown up initiative coming from the own European Living Lab and sponsored by the European Community through a number of European Projects and coordinating actions like COLLABS, CORELABS, Laboranova, EcoSpaces, Co-Spaces, C@R, WearIT@Work, VEP, etc…
Adhérer au 3D-LIVING-INNOVATION, signifie de facto rejoindre Eric SEULLIET, Président et Fondateur de la FABRIQUE DU FUTUR auteur du Livre "Fabriquer le FUTUR".
"Fabriquer le futur" : L'imaginaire au service de l'innovation.
Qui sommes-nous, à LA FABRIQUE DU FUTUR ?
http://www.lafabriquedufutur.org/Reseau.html
Quelques citations des Membres et Administrateurs de la FABRIQUE du FUTUR
"On passe de la société de l'information à la société de la connaissance et on va vers la société de la créativité. Il y a des résistances ... mais la tendance et indispensable pour que les pays se distinguent par l' innovation (par rapport aux pays émergeants)."
plus d'infos sous :
http://visionary.wordpress.com/2007/05/25/fabrique-du-futur-2/
Cordialement,
Hervé HEULLY